We're going to surprise you: 10 unusual Team Building activities in Paris!
You thought you'd seen it all! You've done it all! Corporate video seminars, Team Buildings with everyone at home behind a screen...
Even face-to-face, you thought you'd used up all your ammunition to test cohesion and consolidate team spirit at your corporate events. Every time, you'd come up with the perfect activity to keep everyone happy...
But in 2023, we're going to surprise you! Discover our Top 10 ideas for must-do team-building activities in Paris in 2023!
Even if you're looking for an escape game organised at the last minute, take the time to surprise your colleagues this year, and offer them a moment of team-building around an unusual activity.
(Please note, there is no order of preference in this ranking! We love the 1st as much as the 10th! And we find the 10th just as exciting as the 1st!)
Have your say!
Our 10 unusual activities
1 -

Biotopia: CSR adventure for

animal

species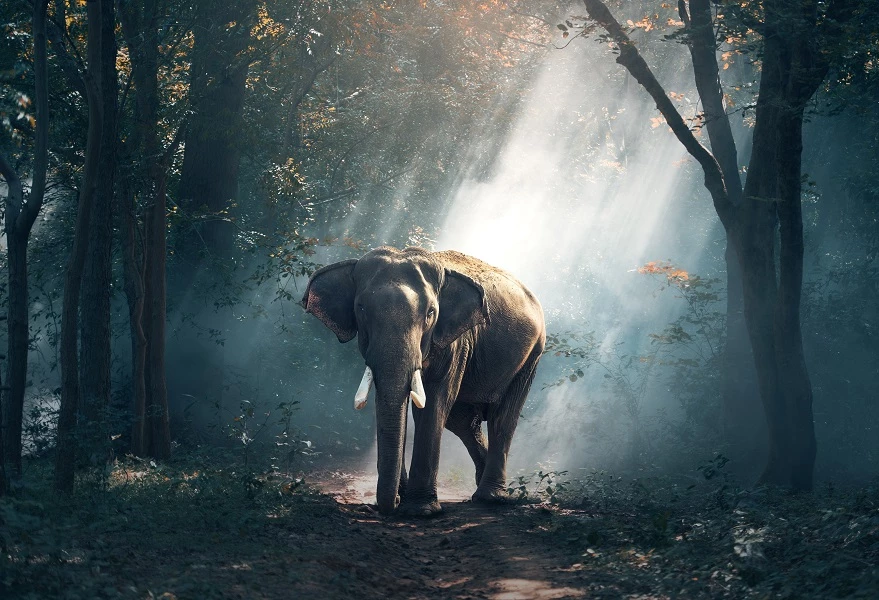 We've said that there are no real rankings, but this Team Building activity is certainly our favourite, as it touches on a theme that's close to our hearts: CSR
This time, it's a far cry from the escape game, with everyone locked in a room.
Come and retrace the journey of Baptiste Merle, a nature lover who has travelled the world to bear witness to the beauty of nature through his art of photography.
It's an interactive photo exhibition set up in an outdoor space of your choice, such as a park, where you'll go around collecting clues and
and solve the riddles.
In this original, life-size event, you'll be immersed in an experience that's a cross between immersive theatre and an augmented reality game.
Whether there are 10 or 200 of you, this team-building activity will charm you in just 2 hours!
Don't wait, raise your team's awareness of sustainable development issues while you play!
2 - The "KhooLanta of the environment": the Planet Olympics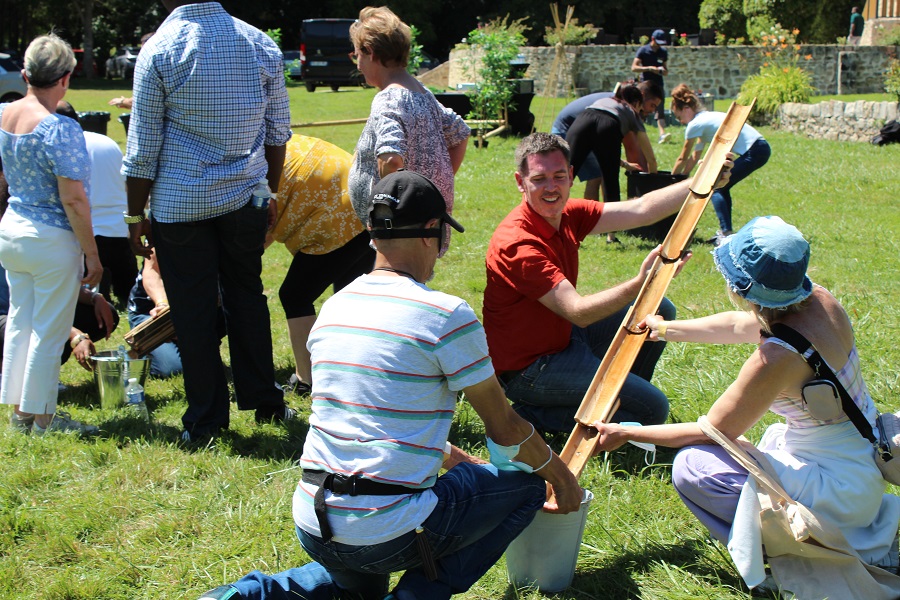 You've heard of corporate Koh-Lanta, but we're taking it one step further by offering you challenges on environmental themes.
Put your team spirit to the test by competing against each other around the 4 natural elements: earth, air, wind and fire.
Forget the treasure hunt, try instead to light a fire with natural charcoal, collect as much rubbish as you can with an eco-trap on a course littered with rubbish,
carry as much water as you can and fill a bucket using large bamboos...
You're guaranteed to have a good laugh and a great time! Believe us, no one will be bored or short of ideas.
Ideal outdoors, but can also be played indoors. Offer your company a "responsible" activity!
3 - An immersive heist in the heart of Paris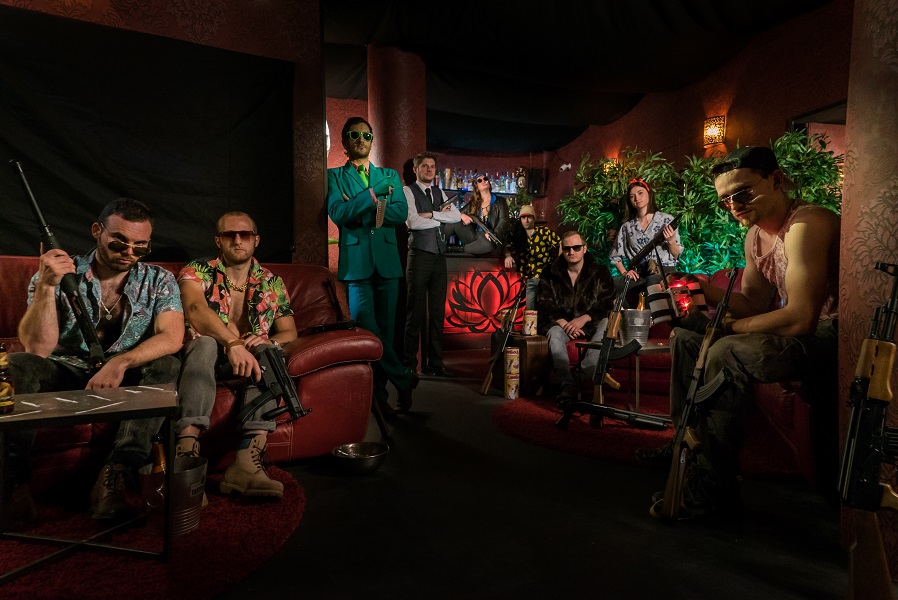 Part Escape Game, part immersive theatre, discover Paris' new live "immersive adventure"!
For up to 12 people per session, take part in a brand new experience, somewhere between GTA Vice City and Ocean's Eleven, with a touch of Breaking Bad.
Gangsters with questionable morals, a story of revenge and a retro 80s soundtrack combine to plunge you into the atmosphere of a Paris that rhymes with Miami.
With actors who make this activity a mix between role-playing and immersive theatre.
A real experience, full of thrills, for over 02 hours in the Montgallet area.
4 - Sensory Challenges - Workshops for the 5 senses, in the dark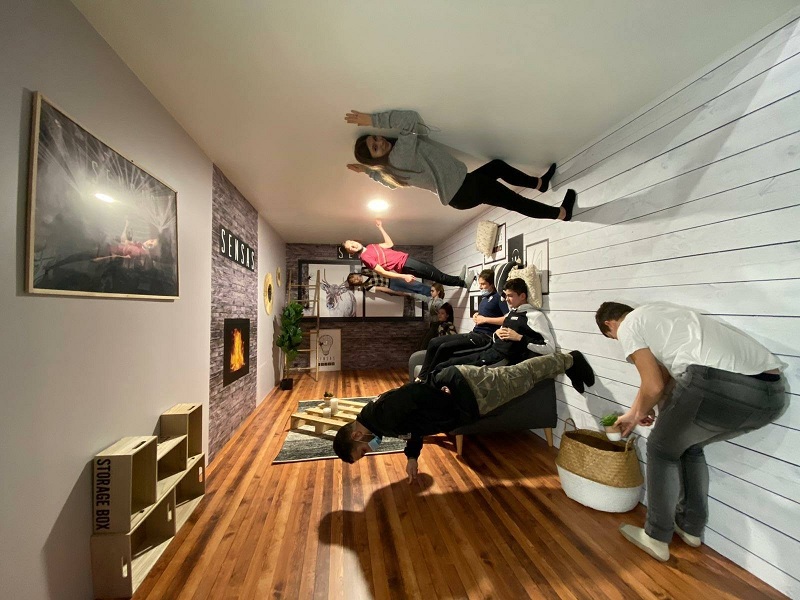 Solve a series of sensory challenges, each more surprising than the last, in near-total darkness. It's an experience that has nothing to do with virtual reality!
For up to 30 people per session and for 02 hours, (re)discover the unsuspected power of your 5 senses.
Your mission is to complete 6 sensory workshops and 3 SAS. In Paris, but also in Lyon, Nantes Marseille, Lille, Bordeaux, Montpellier, Mulhouse, Caen, Nice, Rennes,
Strasbourg. Treat yourself to this fun course on yourself, you'll be surprised by your senses.
We bet you'll be glued to the ceiling!
If you're a thrill-seeker, you're in for a treat!
5 - Big Quiz on the 90s!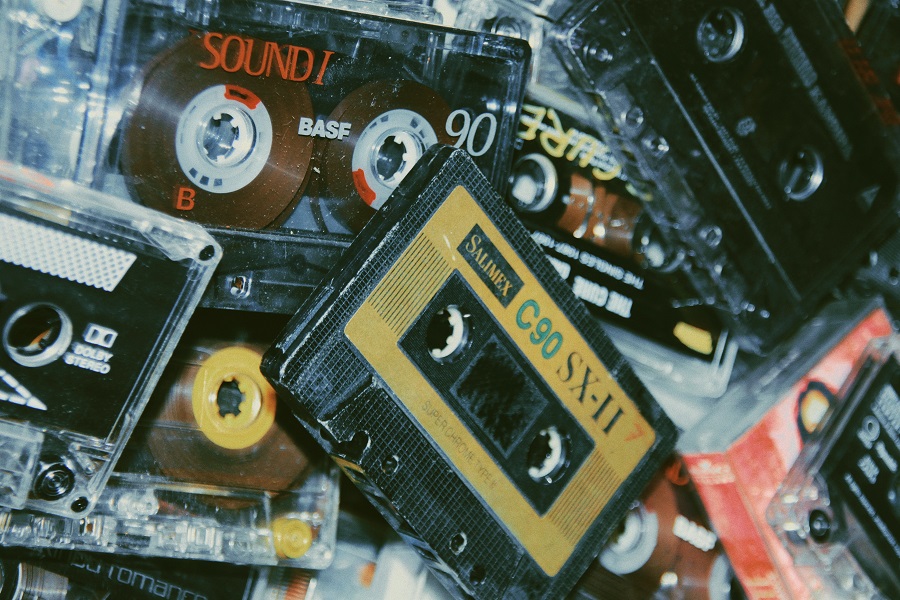 Look out for nostalgia and giggles in this event that will bring your whole team together.
First of all, do you remember Hélène et les Garçons? The "Who spat in my Yop" advert?
On the programme: a quiz on TV programmes, a game on films in the style of "The Price is Right", a blind test on adverts and series from the 90s...
All in a 100% 90s setting! With accessories from the era, and 2 hosts in full 90s style!
Ready to go? K7 in the video recorder? Let's get started!
6 - The Textile Fresco - L'Atelier R.S.E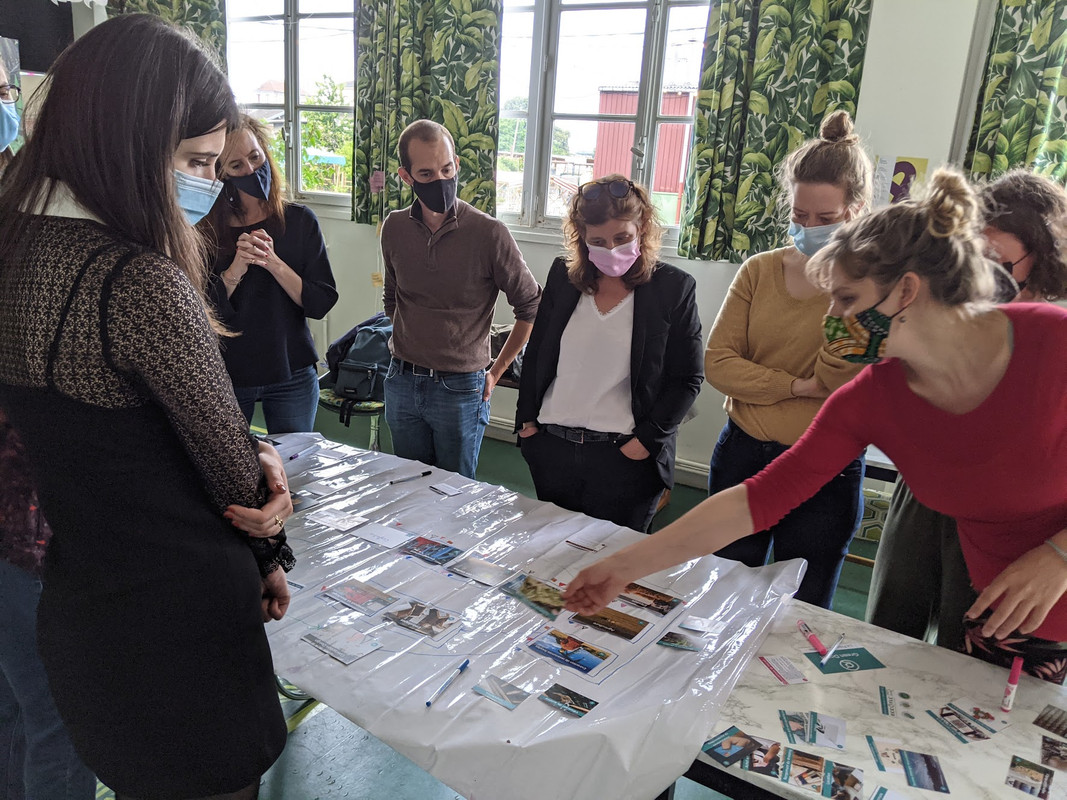 It's something we carry around with us every day, and it's a distinguishing mark for many people... no, it's not money, it's clothes!
Access to clothes has never been so easy.
Nowadays, everything can be bought, resold or thrown away... Online sites are legion. You can buy a T-shirt online for an evening out... then do the same with a pair of jeans...
Involve your colleagues in raising awareness by taking part in a fun and original ESR workshop.
The aim of this "serious game" is to raise awareness and educate participants about environmental issues and the downside of the textile industry.
The workshop also aims to explain the broad outlines of actions that can be taken to achieve more sustainable fashion and promote the 'slow fashion' way of life, without resorting to 'fashion bashing'
fashion Bashing', and then to open up discussions between participants on the subject. This is a great opportunity to boost your group's creativity while
raising awareness of a just cause!
Other possible Frescoes: Digital - Mobility - Waste - Climate... I'd like another Fresco!
7 - Squid Game Challenge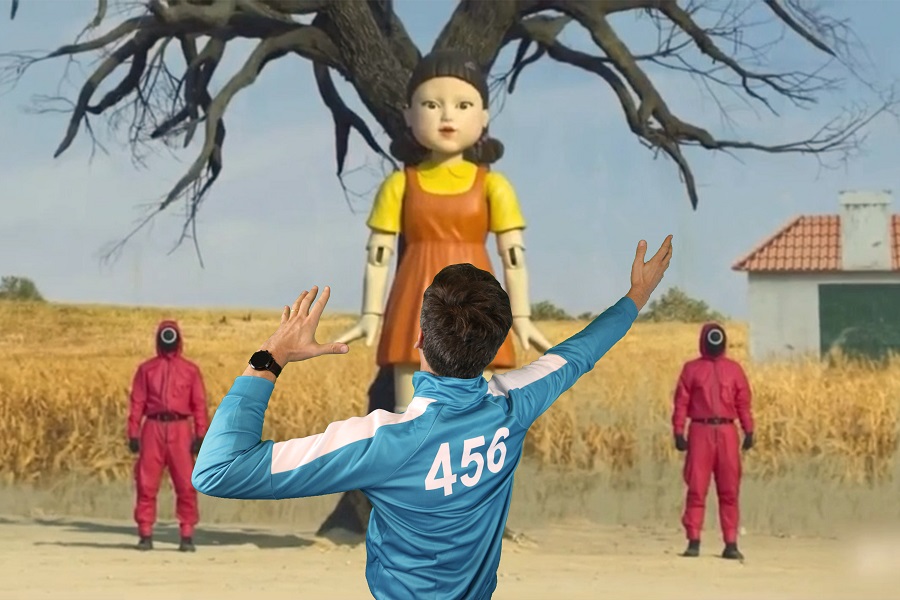 You used to rush home from work to watch your favourite series. Soon, you'll be rushing to work to play a part in your current series!
The phenomenon series of 2021 returns in 2023 with its season 2... And its Team Building format too.
Get in the game! Step into the arena!
Far from the beaten track of traditional Murder Parties, don the red suit and challenge your colleagues to all the games in the series!
That's all we have to say... 1, 2, 3, sunshine!
8 - The 1st Karaoke Cinema in France!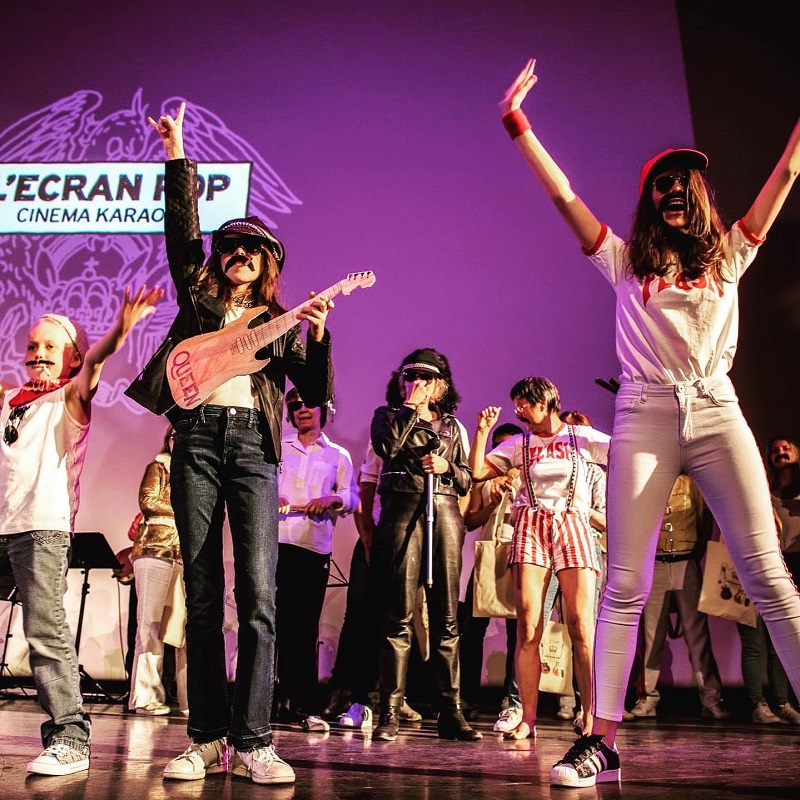 Stand out from the crowd by offering your teams a totally new and immersive concept.
Inspired by the Anglo-Saxon tradition of Sing-Along, where the concept has been all the rage for many years, enjoy a festive, emotion-filled experience based around cult
karaoke version!
Rediscover cult films in a festive atmosphere!
Your team is about to have the time of their lives! Here, getting up, dancing, singing and laughing is recommended.
Choose your film and enjoy an intense evening of music, cinema and nostalgia!
9 - The Quiz Room: the 1st "TV Games" room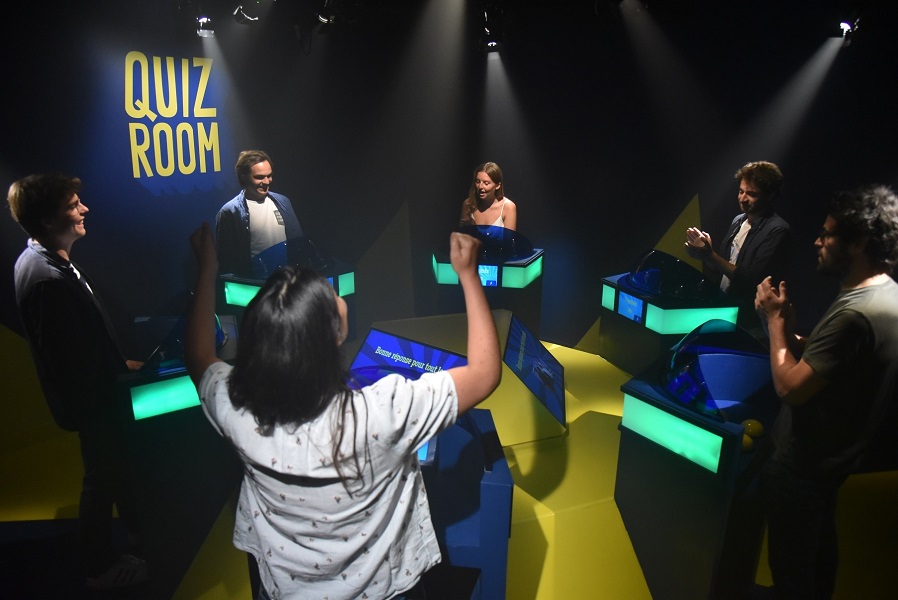 A room fitted out as a TV set to host team quizzes.
The adrenalin will be pumping!
There's no last word here, no Jean-Pierre Foucault, just a room that immerses you in the atmosphere of a TV set.
Scores and questions are displayed in real time on the screen in front of you!
with a maximum of 1 to 3 people per buzzer desk, you can compete against each other and win the hearts and minds of the audience!
In Paris, but also in Lille, Bordeaux, Marseille, Montpellier, Nantes, Nice, Rennes, Lyon and Maçon.
10 - Corporate Fort Boyard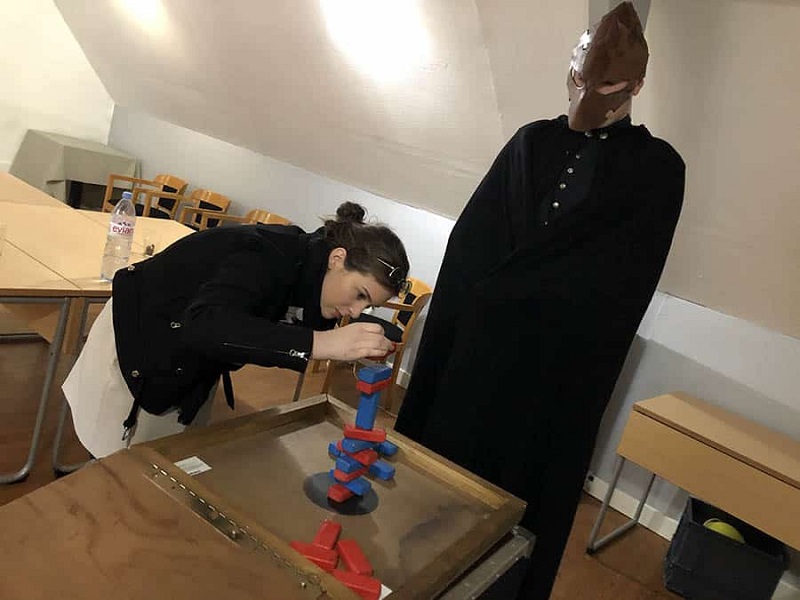 2023, this summer's flagship series will be back in the news!
And this time, you'll be the actors!
A brand new, totally immersive event that will plunge you into the atmosphere of the series.
Disguised presenters will challenge you to a number of the Fort's games!
For example: blowpipe stand, 5 challenges as for the masters of time, "père Fouras" quiz game...
Bring your childhood series back to life! And leave with as many "Boyards" as possible!
Of course, we still have dozens of ideas for activities, venues, caterers and entertainment to suggest. In Paris and elsewhere.
Come and browse through our catalogue of event services: ALL OUR SERVICES!
Or send us your "Cahier des charges" directly: I'd like to organise a turnkey event!